Amanda Kloots is a television personality, professional dancer, celebrity fitness instructor and soon to be author. Since 2021, she has been a co-host of the daytime talk show The Talk. And her most important job of all, Elvis' mom!

"I love that I can rely on all the Soul products for relief and calm. The gummies are so easy to take and bring with me on-the-go! And they taste like candy! The Rapid Relief is my life savior, as a fitness trainer this is my holy grail. I use it after every workout to help prevent soreness. Sleep and anxiety have been two super problematic areas for me in the past year and Soul CBD has finally helped me get a good night's sleep and help keep my anxiety at bay." 

- Amanda Kloots
Amanda's Relief Go-To
CBD Gummies
Deliciously fruity and easy to administer, our pre-sized CBD infused gummies take out the guesswork, so you can get on with living your best, stress-free life.
$43
$36
TASTE YOUR RELIEF
*Discount automatically applied at checkout
All Natural Help With Sleep
Dream CBD Capsules
Formulated with 25 mg of calming CBD + 2.5mg of melatonin, our Dream CBD capsules will help you get to sleep & stay asleep, so you can wake up feeling refreshed & on your A game!
SHOP NOW
*Discount automatically applied at checkout
Do not disturb. It's time to catch up on those quality Z's
You're not dreaming, quality sleep DOES exist when you swap your nightcap for a Dream Cap. Soul's Dream CBD Capsules are formulated with both CBD and melatonin to have you sleeping like a baby in no time.

Each capsule contains 25mg of CBD isolate, 2.5mg of melatonin, and a proprietary blend of snooze-inducing ingredients to improve the length and quality of your Zzz's, so you can wake up feeling refreshed and ready to seize the day.
Recover Like a Pro
You don't have to work out like a pro to recover like one.
Make fatigued muscles and aching joints a thing of the past fast. Formulated with professional athletes in mind, Soul's Rapid Relief CBD Cream contains 500 mg of CBD isolate and soothing menthol that goes on easy and knocks out tension in a dash.

Soul Rapid Relief Cream is suitable for everyone from Iron Men and Women to weekend warriors. For more relief, don't forget to check out our CBD drops, infused gummies, and bath bombs.
Rapid Relief CBD Cream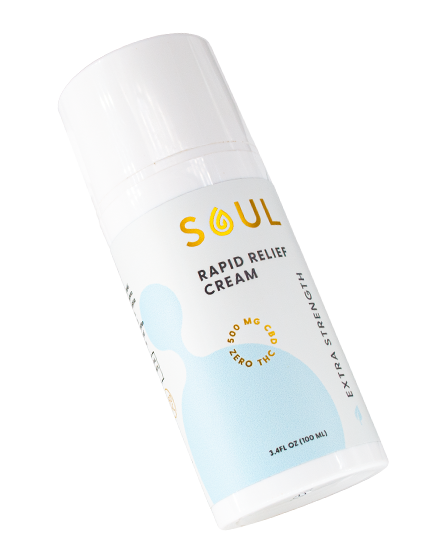 Formulated with menthol and highly potent CBD isolate for fast, powerful, relief.
SHOP RELIEF
*Discount automatically applied at checkout
Stressed out? Feeling anxious? Can't sleep? Sore from your workout? As athletes and entrepreneurs, we've been there. We know how you feel.
What if relief was as easy as C-B-D?
We knew we wanted a natural solution that was powered by plants. So we created Soul CBD. First for us. Now for you. No matter how you're feeling…relief is waiting.
Welcome to the Soul family,
Mike & Angie