The Upside
Healthy hot cocoa for dreamy sleep. So good you'll wonder if it's good for you. (It is.)
Made with SleepRite, the Melatonin blend clinically proven to improve sleep.
Clean ingredients only. Free from aggravating gums, fillers, and funky sweeteners.
Nope, you're not dreaming. (Yet.) Sleepi is the world's healthiest nightcap, with a delicious cinnamon chocolate flavor and a blend of clinically proven ingredients, including the advanced Melatonin blend, SleepRite. Unlike other sleep supplements, Sleepi is free from gums, fillers, and artificials, so you can bring sleep to your brain instead of bloat to your belly. Sip your way to satisfying sleep and wake up refreshed, never groggy, for only $2.40 per night.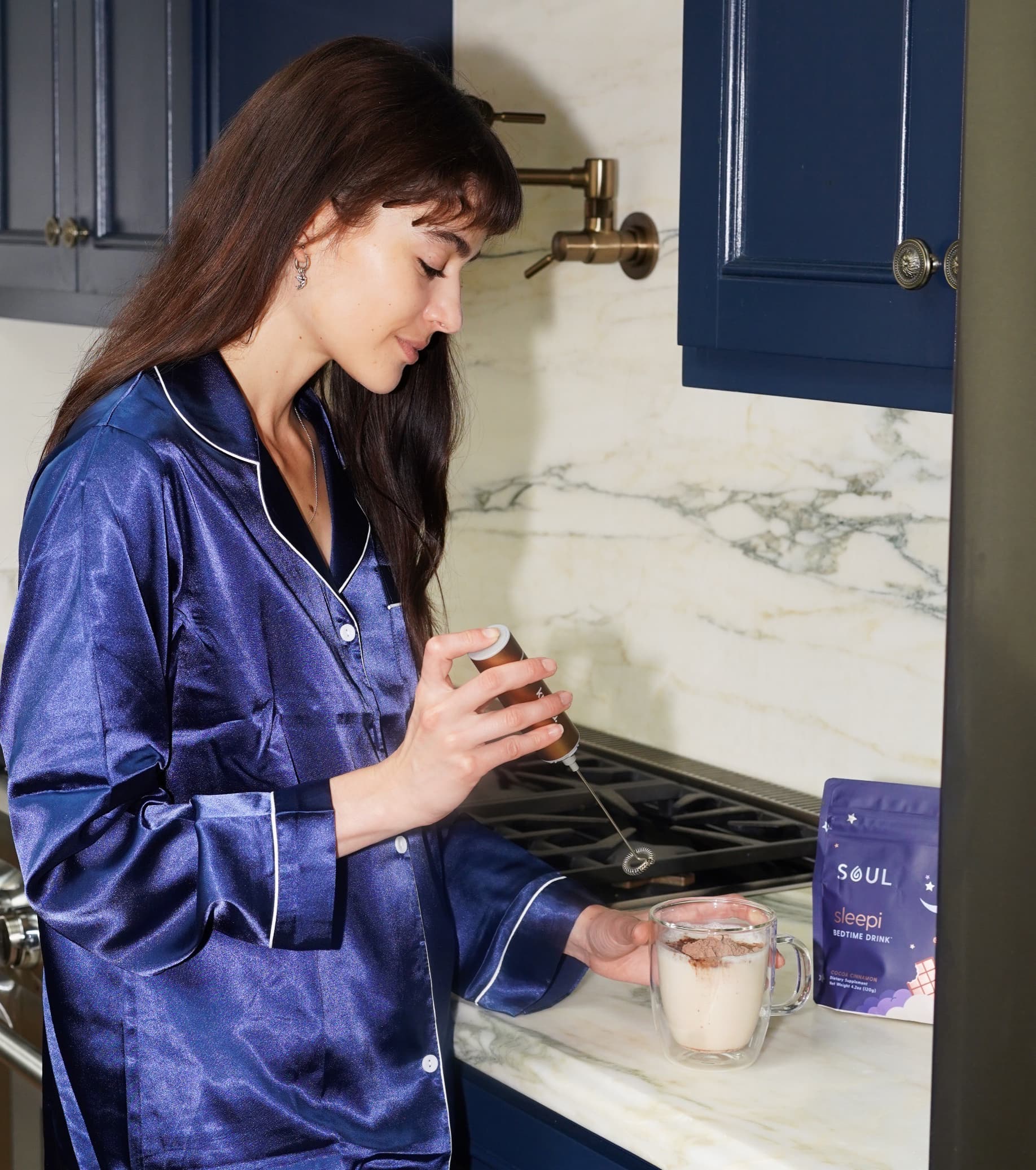 You're Getting Verrry Sleepi
You get clinically proven better sleep with the help of SleepRite, the blend of herbs and amino acids proven to support a more restorative sleep.
Melatonin
A naturally occurring hormone that regulates the sleep-wake cycle, helping you fall asleep faster, and stay asleep longer.
Valerian Root
An herb that interacts with GABA, serotonin, and other receptors that play important roles in the regulation of sleep and mood.
Chamomile Balm
An herbal tea extract that calms and relaxes the mind by producing a sedative effect.
L-Tryptophan
An essential amino acid that triggers a natural sleep response.
Passion Flower
A botanical extract that works by calming an overactive mind to improve quality of sleep.
How Do Others Use Sleepi?
Recipe by Courtney Jonaitis @courtneyjonaitis
Ingredients
8-1 2 oz. hot water or milk of choice
1 scoop Sleepi Bedtime Drink Powder
1 dropper full of Soul Peppermint CBD Drops
Directions
Bring water or milk to a boil
Add 1 scoop of Sleepi Bedtime Drink & mix
Boost your drink with Soul Peppermint Drops